Local Net Buyouts
NASF applied its high seas buyout strategy in critical coastal regions, successfully closing drift net salmon fisheries in Iceland (1996), Wales (1997), England (2003), Ireland (2006), and Scotland (2007). During this time, river net buyouts were also piloted, with the goal of ensuring that returning salmon have an opportunity to spawn in order to secure the future of wild stocks.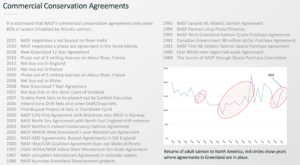 These agreements have evolved over time in response to specific regional needs and interests. One example is NASF's Hvítá net buyout project. The Hvita River is a glacial river in the south of Iceland known for its abundant salmon stocks. These salmon migrate up the river's glacial waters yearly, entering tributaries to spawn. Unfortunately, landowners with fishing rights have historically caught a large share of migrating salmon. As a result, stocks in this area declined dramatically over the last several decades.
In response, in 2021 NASF began negotiating buyout agreements with landowners in the area, compensating them to forgo netting along their waterfront. These agreements have secured safe passage to spawning grounds for approximately 1,000 salmon a year.
NASF holistic approach protects Atlantic salmon in its many habitats. From freshwater rivers to marine feeding grounds, and back again, NASF provides salmon with what they need most: an opportunity to thrive.